Meet Dr. Okoh
Caring for her community with expertise and compassion.
Ngozi Okoh, DMD
"I treat my patients the exact same way I'd want my son to be treated and not an iota less."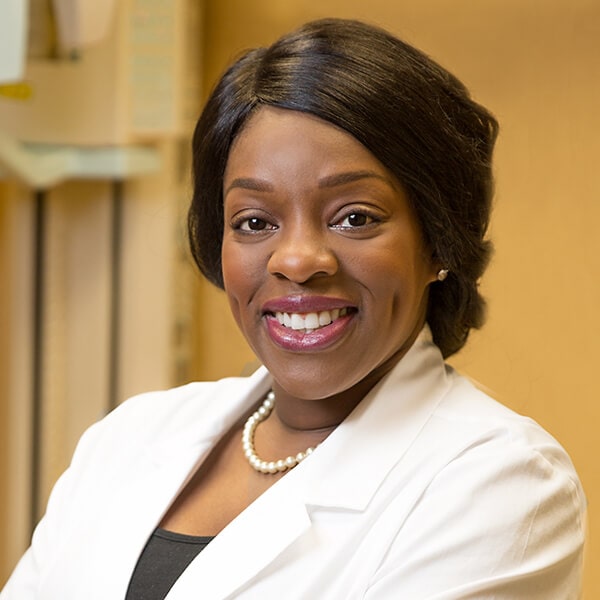 I'm a New York City transplant, originally from Brooklyn, NY, and have proudly lived in four out of the five boroughs of NYC. My husband and I met while I was in my senior year of dental school in Philadelphia. We have a one-year-old son together.
School brought me to Philadelphia in 2008, and I've been here ever since. I'm the oldest of four girls and am privileged to have attended three Ivy League universities.
My best friend's mother inspired me to get into dentistry. After my first year of college, she invited me to visit her mother's practice. I had no idea what kind of practice she meant. But I went and was blown away at what a Nigerian-American woman was able to accomplish. She had a beautiful office, supportive staff, and patients who loved her. I knew in that moment dentistry was my calling.
As a Montgomery County dentist, I treasure all the relationships I build with the families I see time and time again. Both the patient and parents make me smile when another six months rolls around, and I get to hear all their family updates.
I genuinely love what I do and enjoy becoming an extension of my patients' families.
What do you do outside of the office?
YouTube! I love being on camera and sharing my passions with others. I've been blogging and vlogging since 2009 about fashion, beauty, and hair care. I also enjoy group fitness classes, organizing my planner (#plannergirl), and spending time with my son and husband.
Who is your hero and why?
Oprah Winfrey. In everything she does, Oprah has earned a reputation for championing causes that reflect her beliefs. These beliefs show how each of us should take personal responsibility for our lives and help to improve the world. Like her, I want to be able to use my voice to empower those far or near. My ambition is to become a philanthropist on a global level.
What was the best day of your life? Why?
September 1, 2018 – the birth of my first child. After experiencing childbirth, womanhood and motherhood now have a newfound meaning to me. Being a new mother has been such a blessing, and I'm so privileged to watch my little boy explore, learn, and develop new skills daily.
What is an interesting fact about yourself?
I have a YouTube channel and am a "planner girl." I have an extensive selection of planner stickers and washi tape.
Expertise & Experience
See Dr. Okoh's journey and what sets her apart.
Columbia University (undergraduate college)

University of Pennsylvania (dental school)

Montefiore Medical Center (general practice residency)

Yale-New Haven Hospital (pediatric residency)
If you need a pediatric dentist for your kids who are from 6 months to 18 years old, Dr. Okoh is the best choice in Philadelphia!
Giving Back to Our Community
We are your local neighborhood dentist in East Norriton, PA.
Our dental practice integrates seamlessly with our community as we strive to help those living in it. We genuinely love the people in East Norriton Township and want to make our city a great place to live.
Dr. Okoh has a real love for people and desires for everyone to enjoy their life and feel connected. Therefore, she leads the way in giving back to our community through her involvement with various causes and events, including:
Minority student outreach
Patients and community are paramount at Farm Park Pediatric DentistryLearn more about our office. When you visit our office, you join our close community of like-minded people. In a sense, your family becomes our family, and we work together for an enjoyable experience.
Keep an eye out for Dr. Okoh and our team at a community event near you!
Schedule Your Visit Online
We offer early morning, evening, and Saturday appointment times!